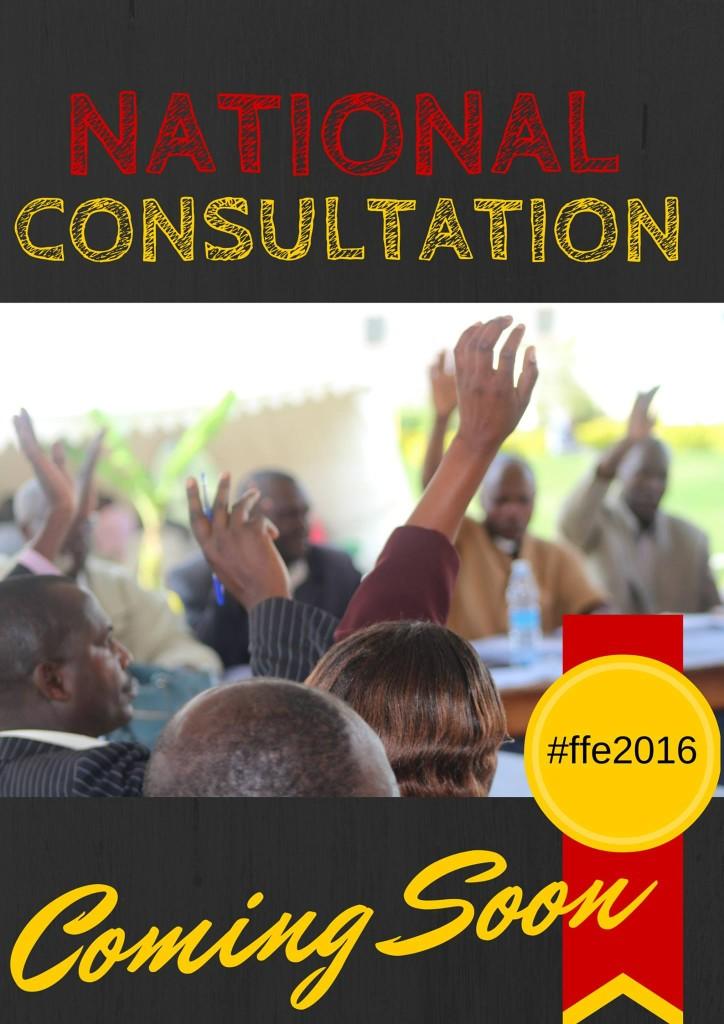 Hotel Africana, Kampala, Uganda.
From November 24-26, 2014, Ugandans from across the country and the Diaspora will convene in Kampala for the first ever National Consultation on Free and Fair Elections. The National Consultation will be attended by over 1,000 citizens and leaders representing the various segments of our society including political parties and organizations, religious institutions, business and traders' associations, the labour movement, the NGO fraternity, professional associations, academia, women, youth and other citizens grouped in organized formations.
The goal of the National Consultation is to provide ourselves an opportunity for us to deliberate on a wide range of constitutional and electoral reforms needed to strengthen our Nation's electoral system, strengthen the rule of law and constitutionalism in our country. That we have had major challenges in organizing credible regular, free and fair elections is now a widely accepted fact. That elections have remained a flashpoint for instability, conflict and human rights abuses is not in contention. The National Consultation is our single most important opportunity to challenge ourselves, overcome the past gridlock and unlock our potential to determine our future and destiny where elections become part of a solution rather than a source of conflict or misunderstanding.
The National Consultation is a culmination of a widely consultative and inclusive process that has gone one over the last 5 years. The work that brings us up to this point includes that done under the Citizens' Manifesto process, the Free and Fair Elections Campaign, the Interparty Political Organization for Dialogue, to mention but a few.
Over the last 2 months, we have convened 14 Regional Forums on Free and Fair Elections. All in all, over 3,000 political, religious, civic and other leaders participated in these Forums from Karamoja to West Nile, to Bunyoro, Kigezi and Teso. In these Regional Forums, we witnessed a rare moment when Ugandans: men, women and the youth put aside their political, religious, professional and other affiliations to engage in a conversation about the future of our country. It is this spirit of love for country beyond our personal affiliations that we hope to bring into the National Consultation.
The Regional Forumshave witnessed an emerging consensus on major constitutional and electoral reform issues. Across the country, participants in these Forums debated and reached consensus on critical reform issues that have previously seemed impossible until now. These include, among others:
• The need to ensure that our political parties have internal democracy for them to act the building blocks for our democracy.
• The importance of ensuring that the Electoral Commission and other constitutional commissions should be constituted through a competitive recruitment process that emphasizes meritocracy and impartiality in doing business.
• The need to ensure effective redistribution of power among the agencies of state and building a strong system of checks, balances and accountability.
• The role of the military in our politics and the need to keep armed forces out of processes that are inherently partisan. .
• The importance of a credible and transparent Voters' Register that is permanently displayed and available to interested citizens.
• The need to adopt rules that prevent the misuse and/or misappropriation of (public) funds in our elections and other important political processes.
These and many other issues will be debated over the three days of the National Consultation to develop and agree on a package of reforms. The main outcome of the National Consultation is therefore the Citizens Compact on Free and Fair Elections, which will contain this agreement. This Compact will be presented to Parliament for enactment into legislation. We also intend to undertake countrywide mobilization of citizens to support the reform programme that will be contained in the compact.
As Conveners, we believe that after the famous Lancaster Conference of 1961 and the Moshi Conference, this is the most important citizens' gathering of our times as we look to work together in shaping the future of our country. While the Lancaster and the Moshi Conferences took place outside our country, the National Consultation on Free and Fair Elections is taking place on home ground, which is a manifestation of the progress, however marginal, that we have made as a country.
We approach the organization of this National Consultation with humility and a strong belief that it is "WE THE PEOPLE" that have the duty to create the foundations for sustainable peace, democracy and economic prosperity. We therefore call upon Government, political parties, public sector and private institutions, the civil society and all citizens to support the convening of the National Consultation and ensure its successful outcomes. We are unyielding in our commitment to ensure that the National Consultation is an inclusive process where all voices can be heard. We therefore thank all those who have in one way or another contributed to the convening process.
For God and My Country!