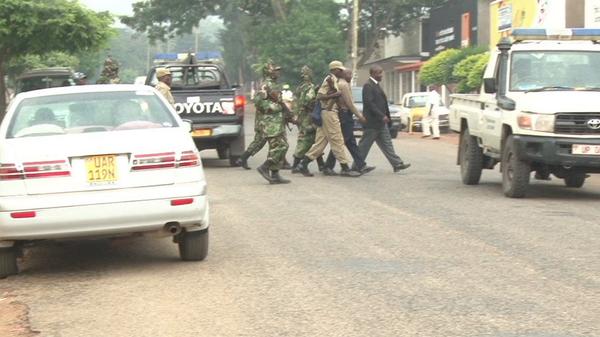 Fred Enaga the Police Spokesman confirmed that 113 people are accused and arrested in connection with Bundibugyo and Kasese (SMSMedia, 2014).
The Top officials from the Rwenzururu Kingdom who is in police custody:
–          Premier Minister Noah Nzaghale
–          Deputy Premier Yeremiya Mutooro
–          Chairperson of Rwenzururu Youth Wing: Erisinana Mberamu
–          Minister of Tourism: Yoramu Mulema
–          The chairperson of Rwenzururu War Veterans
–          Chief of Omusinga(king) on Security
(SMSMedia, 2014)
Fred Enaga commentes: "All the files of the suspects are in their advanced stage and awaiting the advice of the Director for Public Prosecution (DPP). They will be arraigned in court today (Friday) or early next week on charges of treason and concealing treason"(…)"They have all recorded statements indicating that they had a hand in the attacks"(…)"But if our investigations reveal that he (Omusinga Mumbere) was also involved in the attacks, then the law will take its course"(…)"two more people, including the minister of information and another person who allegedly helped the attackers to procure a witchdoctor from Democratic Republic of Congo have been arrested and detained at Kasese Central police station" (SMSMedia, 2014).
More information from the Police:
Police say they have recovered 10 guns, 9 magazines and tear gas canisters stolen from them during the attack in Bundibugyo district on Saturday (UgandaRadioNetwork, 2014).
Polly Namaye says: "that police has not under any circumstance attempted to summon or arrest the king" (…)" however does not rule out the possibility of summoning the king in connection with the recent attacks on the Rwenzori region that claimed over 90 people" (…)" that the kingdom Prime Minister Noah Nzaghale, and two other kingdom officials are still under police custody" (KFM, 2014).
Some News and reports, which I  cannot say the completed source line, but still interesting in the matters of things:
The Group fighting in the Rwenzori region has accused the government of misleading the people on the cause of fighting.
The Group says they are fighting a full scale war against the regime and have released the following numbers from recent fighting:
1 -In the first attack on Mubende police barracks, 9 policemen were killed and 42 guns captured. No causality on the attackers.
2 -The attack on Bundibujo army barracks, 214 guns,17 Machines and ammunition were taken, 192 soldiers were killed, attackers suffered 3 causalities.
3 -At Ntoroko 4 Soldiers were killed, guns taken
4 -At Kaso and weighbridge a total of 24 guns were taken and Three Soldiers killed.
According to the message from this Group, they described Museveni statement on the conflict as a meandering mind of a tired and deranged man. 
Will adress it more when I have more information.
Peace!
A Bit more: 
"All the files of the suspects are in their advanced stage and awaiting the advice of the Director for Public Prosecution." – Rwenzori suspected attackers face treason charges.
Links:
KFM.co..ug – 'Rwenzururu King could be summoned' (11.07.2014) Link:http://kfm.co.ug/news/rwenzururu-king-could-be-summoned.html
SMSMEDIA – 'Suspected Rwenzori attackers face treason charges' (11.07.2014) Link: http://smsmedia.ug/2014/07/suspected-rwenzori-attackers-face-treason-charges/
UgandaRadioNetwork – 'Security Recovers 10 Guns Stolen In Bundibugyo Attacks' (11.07.2014) Link: http://ugandaradionetwork.com/a/story.php?s=65267
Photo Link:
https://twitter.com/RonnieKulabako/status/487142020038008832/photo/1